The reason for the silence reallly... school. I graduated back in May and thought to myself then, I will have SO much free time on my hands now. HA Oh Meagan, how silly. I adore my job though so the extra time I spend in my classroom in the evenings is worth it. The good news is, I've heard that this is completely normal for a first year teacher. :) The perfectionist in me had my doubts. If I let a week of not posting go by, it quickly turns into two, and then pretty soon, a couple months have blown by without even realizing it. One of my goals for 2014 is to be better at keeping this space updated regularly and making it more of a priority. Especially because I am dying to share all of the plans I have for our beautiful new home as they become a reality in the new year!
And because I am still catching up... a few updates from October!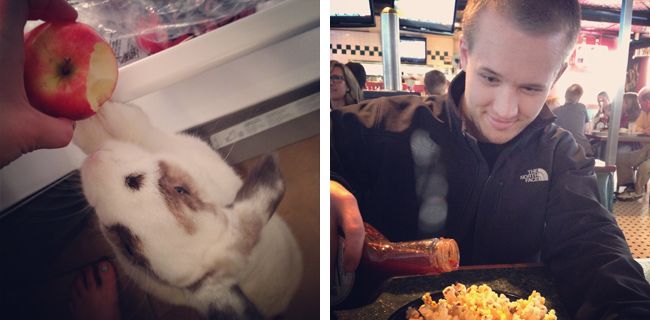 We may not have dressed up for Halloween or even carved a pumpkin for that matter, but we visited a local pumpkin patch for the first time and it was fun to fill our new front porch with them! Rue quickly learned where our refrigerator is located in our new house and jumps her little paws right on top of the first drawer where she knows the apples await her. Cutest!
We celebrated Nic finally getting the title to a job promotion that had been in the works for him for a while. Proud of that Operations Manager of the Medical Practice Division. We celebrated with extra sticky finger sauce at Wingers for dinner. ;)
My brother was featured on ESPN as a senior for the Navy Sprint Football team. I'm really proud of the accomplishments he has made and it was fun to watch him do his thing.
Red Ribbon Week also makes school life in October extra fun! I dressed up as a "Super Teacher" for Super Hero Day. Wearing those glasses for a day made me want to go out and find a cute pair to wear every day, even though I have great vision. Insert, the fun date night excursion to Claire's to try on some silly ones.