We had such an awesome 4th of July this year! We ended up missing the parade in the morning so that Nic could help out a friend's family with computer troubles that they have been having but it was completely worth it because we always love getting to see this family and it never fails that good feelings come from helping someone in need.
There was nothing better than starting out the fourth with some festive fruit pizzas. Look at all that yummy red, white, and blue!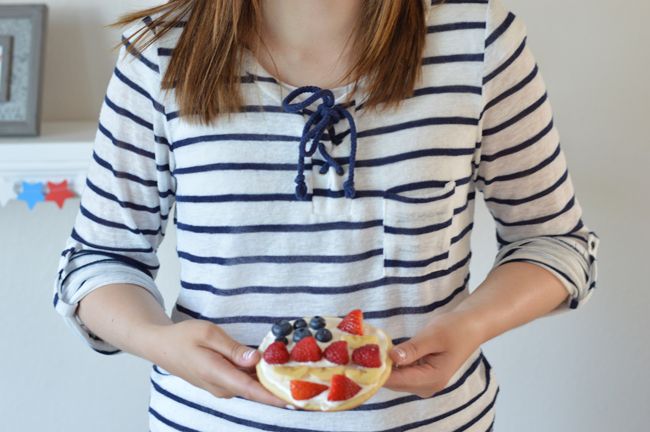 Rue was feeling a liiiiittle left out from not being able to snag a bite so she had her number one fav, romaine lettuce. Wouldn't that be nice if we considered vegetables a treat?!

We are really lucky to only be living a few blocks away from the fairgrounds where the firework show happens. That place is a TOTAL mad house if you actually have to drive so we always walk there! By the time we got up to the fairgrounds there was still about an hour before dark so we played a few rounds of Uno to fill up the time. I'm
great
at that game! ;) HA It is a game of chance.
The fireworks ended up getting delayed because of high winds but it was SO worth sticking around. It gave us two and a half hours to just sit under the stars and talk and I loved every minute of it. Our alone time is something I'll really miss when we have kids someday. I'm taking full advantage of it now while I can. :) The firework show finally began around 11:30 and it did not disappoint!
I remember spending our first 4th of July together in Boise and telling Nic, "It is a really great show, you'll love it." Yeah... look who's laughing. Pocatello's firework show really is the biggest and best in southeastern Idaho! We were also lucky enough to be sitting next to a couple who brought their stereo with them and it was tuned to the channel where patriotic music is played in unison with the firework show. It was awesome!
Hope you had a happy and safe fourth! I sure do love this country that I live in and continually feel blessed to have the freedoms that we do.
P.S. Past 4th of July's...
2012
,
2011
,
2011
continued, and
2010
.